more
Fo[u]r Alto
---
microtonal music for four alto saxophones
---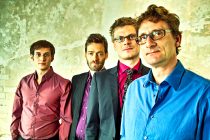 ---
Frank Gratkowski – alto saxophone, composition
Christian Weidner – alto saxophone
Benjamin Weidekamp – alto saxophone
Florian Bergmann – alto saxophone
---
---
Klangquadrat
---
musical performance for children and adults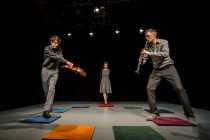 ---
Florian Bergmann – clarinet, composition
Benedikt Bindewald – viola, composition
Minouche Petrusch – performance
---
---
UnbedingT
---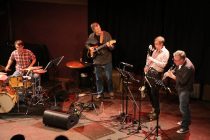 ---
Jürgen Kupke – clarinet
Florian Bergmann – bass clarinet
Jörg Schippa – guitar
Christian Marien – drum
---
---
7of8
---

---
Matthias Schubert – tenor saxophone
Florian Bergmann – alto saxophone, clarinet, bass clarinet
Nikolaus Neuser – trumpet
Andreas Willers – guitar, composition
Meinrad Kneer – double bass
Christian Marien – drums
---
---
PinAddix
---
Sebastian Piskorz – flugelhorn, voice, composition
Florian Bensch – basson
Florian Bergmann – clarinet, bass clarinet
Nils Marquardt – trombone
Felix Jacobi – bass
Christian Klein – drums
---
 Perspectives
---
PERSPECTIVES is an interdisciplinary performance about the question of the perspective as a constant companion of the human being. The perception of our environment, other people and of ourselves is inseparably linked to the point of view that we're taking.
The capacity of the human being to change his perspective consciously, seems to be a necessary requirement to think, feel and act responsibly. The structured interplay between performance, live music, video projection and sound engeneering creates unexpected spaces and situations in which the actors can move freely improvising.
---
---
PERSPECTIVES was premiered on February 16th, 2012 at Ballhaus Ost. With Kajsa Bohlin (performance), Pierre Borel (saxophone), Hannes Lingens (percussion), Oscar Loeser (video), Florian Bergmann (conception, direction).
---
Gloria Naufragada
The music of my cd "Rendezvous" was used for the video "Gloria Naufragada by the belgian dancer Inez Pessoa.
---
---
Theater
---
Since 2005 I've been working as a theatre musician, a.o. at the Deutsche Oper, Berliner Ensemble, Deutsches Theater Berlin, Nationaltheater Weimar, Teatro della Tosse, Theater o.N. and the Neuköllner Oper. Productions: Büro für postidentisches Leben (Matthias Rebstock), Pizzeria Anarchia (Michela Lucenti), Kleines Stück Himmel (Ania Michaelis), Peter Pan, Die Dreigroschenoper, Das Wintermärchen (Robert Wilson), Endstation Sehnsucht (Thomas Langhoff), Antigone (George Tabori), Mutter Courage (Claus Peymann), Woyzeck (Jorinde Dröse), Schweyk (Manfred Karge) a.o.