trio transmitter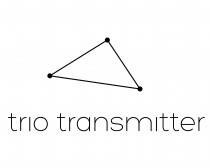 ---
Florian Bergmann – bass clarinet/clarinet
Benedikt Bindewald – violin/viola
Alba Gentili-Tedeschi – piano
---
More than just an ensemble for contemporary music, Trio Transmitter is a group of explorers which dauntlessly transcends all disciplines, mixing science and art with relish.
– Tomas Fitzel, rbbKultur, 5. June 2019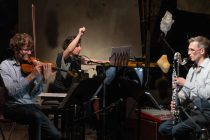 Trio Transmitter
is an innovative new music ensemble that presents inventive concert programs and interdisciplinary performances. It's three members are internationally touring instrumentalists, composers, and music theater performers.
The ensembles focusses on world premiers of new compositions which often have a performative character. In close collaboration with composers or as composer-performer-pieces they create works that are distinctively written for the Trio.
In 2021, the ensemble received a working grant from the Musikfonds, within the framework of which they realised an interactive music theatre video that explores the boundaries between new music concert, streaming performance and video gaming.
Invited by Kontraklang Berlin in 2020, Trio Transmitter presented Benedikt Bindewald's piece Hochhäuser voller Menschen (high-riss houses full of people) – a miniMUSIKTHEATER, which reflected on the current experience of the lockdown and included a live video projection of Bindewald, who was trapped in Israel because of the Covid19 regulations at the time.
In 2019 the Trio presented an interdisciplinary three-part concert performance: Cells, Sounds & breeding Souls. Developed in cooperation with Bio Artists Fara Peluso and Margherita Pevere, the series was sponsored by a grant from Haupstadtkulturfonds Berlin. They investigated the life cycle of an artwork: its creation, reception and deconstruction from the perspective of contemporary music and artistic-scientific exploration of living materials. The series included world premiers of Peter Ablinger. Neo Hülcker and Christian Vasquez a.o.
2016 saw the release of the Trio's CD camera obscura on NEOS Music presenting solely world premiere recordings. The music had been developed for the concert evening Transmitter 2015 which was funded by the initiative neue musik berlin and included world premieres by Hana Hartman, Nuria Núñez Hierro and Markus Wettstein a.o.
In 2012 the ensemble made its debut at the International Umlaut Festival, where they premiered Florian Bergmann's Lebst du schon? – eine multimedial composition, which combined instrumental music with electronic sound production, slide projections and performative actions.