trio transmitter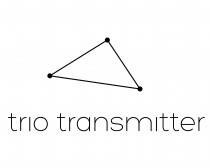 ---
Florian Bergmann – bass clarinet/clarinet
Benedikt Bindewald – violin/viola
Alba Gentili-Tedeschi – piano
---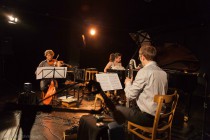 Trio Transmitteris an innovative new music ensemble that presents inventive concert programs and interdisciplinary performances. It's three members are internationally touring instrumentalists, composers, and music theater performers.
Since its founding in 2012, Trio Transmitter has commissioned many new works from composers including Peter Ablinger, Hanna Hartmann, Neo Hülcker, Nuria Núñez Hierro, Christian Vasquez Miranda, Markus Wettstein.
In 2019 the Trio presents its new three-part concert performance: Cells, Sounds & breeding Souls. Developed in cooporation with Bio Artist Margherita Pevere, the series is sponsored by a grant from Haupstadtkulturfonds Berlin.
The trio has also received support from initiative neue musik berlin for its concert evening Transmitter 2015.
2016 saw the release of the Trio's CD camera obscura on NEOS Music presenting solely world premiere recordings.
---
camera obscura
released on NEOS Music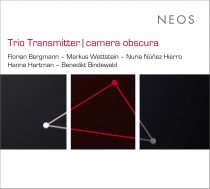 ---
Videos
Knots (Florian Bergmann, 2014) für Bassklarinette, Violine, Klavier und Zuspiel
---
CCTV in operation (Benedikt Bindewald, 2014) für Bassklarinette, Violine und Klavier
---
---
Treffpunkt (
Nuria Nuñez Hierro
, 2013) für Bassklarinette, Viola, Klavier und zwei Plattenspieler
---
---
Lebst du schon? (Florian Bergmann, 2013) für Bassklarinette, Violine, Klavier und Projektionen
---
Transmitter on Facebook
---
Fotos © Melanzani&Melanzani, Elma Riza, Dan Safier, Florian Bergmann.